Sempeter v Savinjski Dolini, Slovenia, 30 April 2023 – Italy successfully defended their title with a straight-set win in the final over Ukraine and Slovenia claimed the bronze medal with a sweep of Germany here on Sunday evening, as the 2023 Sitting Volleyball Women's European Golden Nations League wound down after three thrilling days of high-quality action.
Led by tournament MVP Sara Cirelli, Italy overwhelmed Ukraine in the final and without any trace of doubt remain the undisputed top team of the continent – a class above any of their opponents here.
They finished the tournament in Sempeter undefeated, extended their winning streak across all Golden League editions to nine matches and have dropped only a single set on the way (to Slovenia in pool play).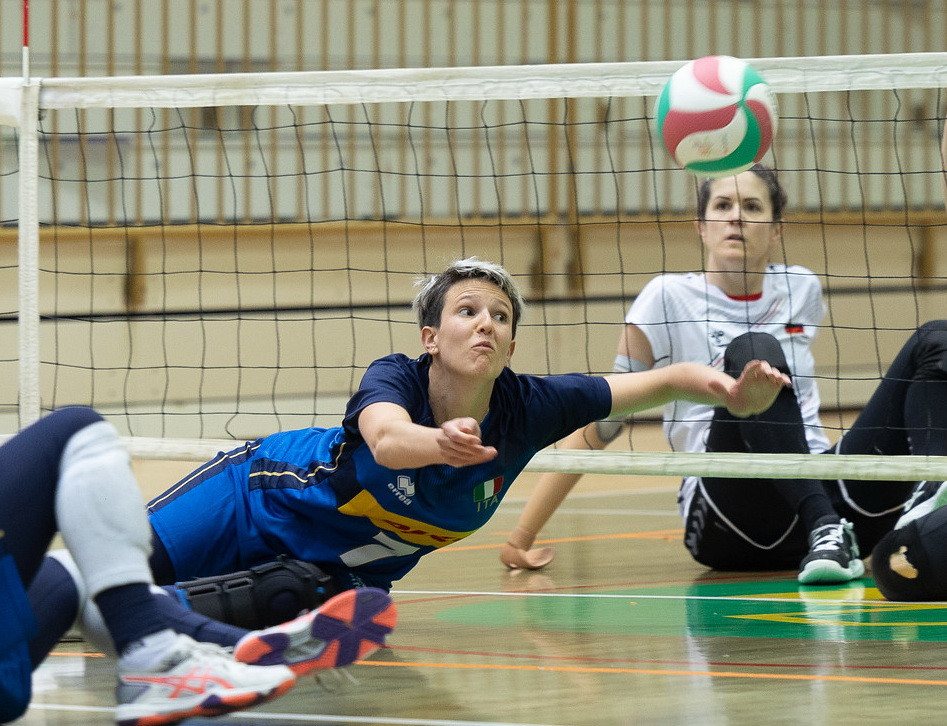 Sara Cirelli in action at the 2023 Golden Nations League where she was honoured with the MVP award for an excellent performance as she led defending champions Italy to back-to-back gold medals.
But Ukraine produced here, in the heartland of European ParaVolley, a side much improved from the past and very promising for the future. Their performance in the European Championship next October in Italy will be much anticipated.
Ukraine, who were also silver medallists, certainly came back with a bang after missing out on last year's competition due to the war – not just for the end result, but for their resilience and performance overall.
Hosts Slovenia are also on the right track ahead of the 2023 European Championship in four months' time.
For now though Slovenia are the only country in Europe to have been on the podium in all three editions so far of the Golden Nations League, having previously won bronze in 2021 and silver in 2022, producing highly consistent performances year after year.
For Germany it could all have been a bit different, had they not dropped both their opening pool play matches in tie-breaks (to Ukraine after blowing a set-set lead and then to Slovenia) – though in the end, when it counted most, Slovenia were clearly the better side in the bronze medal match.
Poland, who remained winless, ranked fifth in pool play and were eliminated from the medals matches, were not quite up to the level of the top four but certainly remain right up there with the elite of European Sitting Volleyball.
May will continue to bring exciting Beach ParaVolley and Paravolley with the Beach ParaVolley Marathon in Bibione (ITA) between 12th and 14th May followed by the Silver Nations League (both gender) to be held in Nottingham (GBR).
Let's not forget the Drawing of Lots ceremony for the European Championships planned for Saturday 13th May in Caorle (ITA) – so stay tuned and watch this space!